Moonton's MOBA mobile game Mobile Legends: Bang Bang is skyrocketing in popularity, with its on-the-go playability and quirky cast of over 100 characters - what's not to love? And How's the Mobile Legends tier list looking these days? In five years, Mobile Legends has amassed a character roster of over 100 unique brawlers for players to choose from. There are only a select few Mobile Legends free heroes – you'll have to unlock the majority of them through battle points, which you'll earn by playing the game, or using diamonds you buy from the store. Usually, new Mobile Legends heroes are more powerful and expensive to attract you to spend your hard-earned money on them. But don't be afraid, with the aid of this tier list, you'll be able to select the most competitive Mobile Legends characters from each class.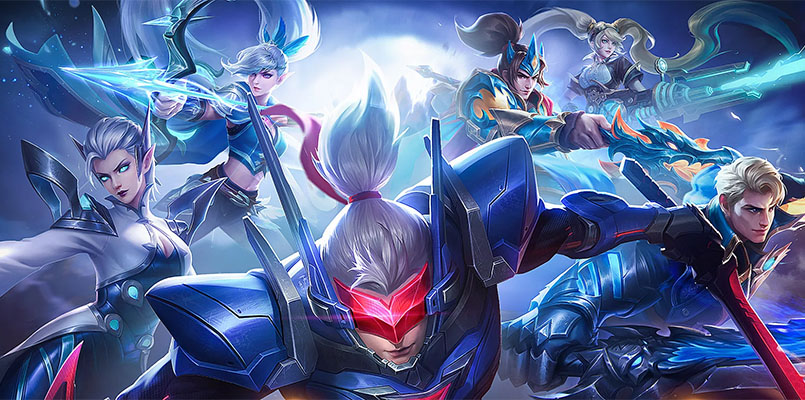 Our Mobile Legends tier list includes the top six characters from each of the six classes. All of these Mobile Legends heroes are good choices for solo queue, and we've given you a few excellent alternatives you should think about unlocking as backup in case they get banned by the opposing team. You'll still need to pay attention to your team composition, though.
Mobile Legends: Bang Bang Tier List: Six Classes
1. Assassin
The Assassin class is focused on eliminating vulnerable enemies, as its name suggests. They are difficult to play since they are frequently delicate and need precise use of skills to hunt their target. For your side to win, their powerful burst damage must be directed to the right opponents. See the Assassins tier list for Mobile Legends below.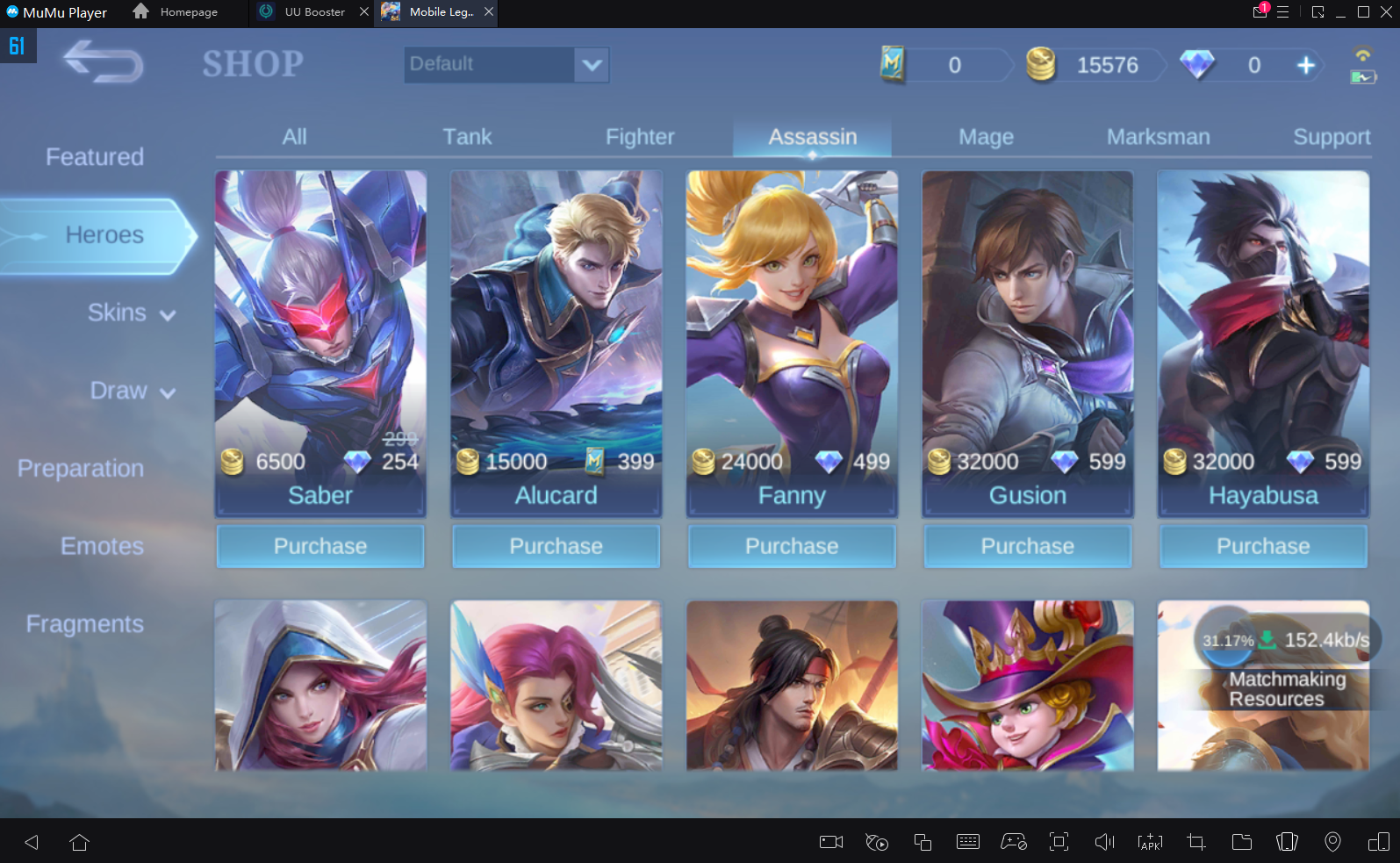 S Tier: Aamon, Wukong, Ling, Saber
A Tier: Habyusa, Fanny, Hanzo, Yin, Yi Sun-Shin, Alucard, Benedetta, Joy, Gusion, Karina, Harley
B Tier: Kadita, Natalia, Lancelot
C Tier: Selena, Helcurt
D Tier: Lesley
2. Fighter
Characters in the melee range known as fighters have a flexible, well-balanced skill set that can assist a team. Although not as robust as a Tank, their damage accumulates over time, and they are relatively sturdy, so they may be modified to meet your team's tactical demands. See the Mobile Legends fighter tier list down below.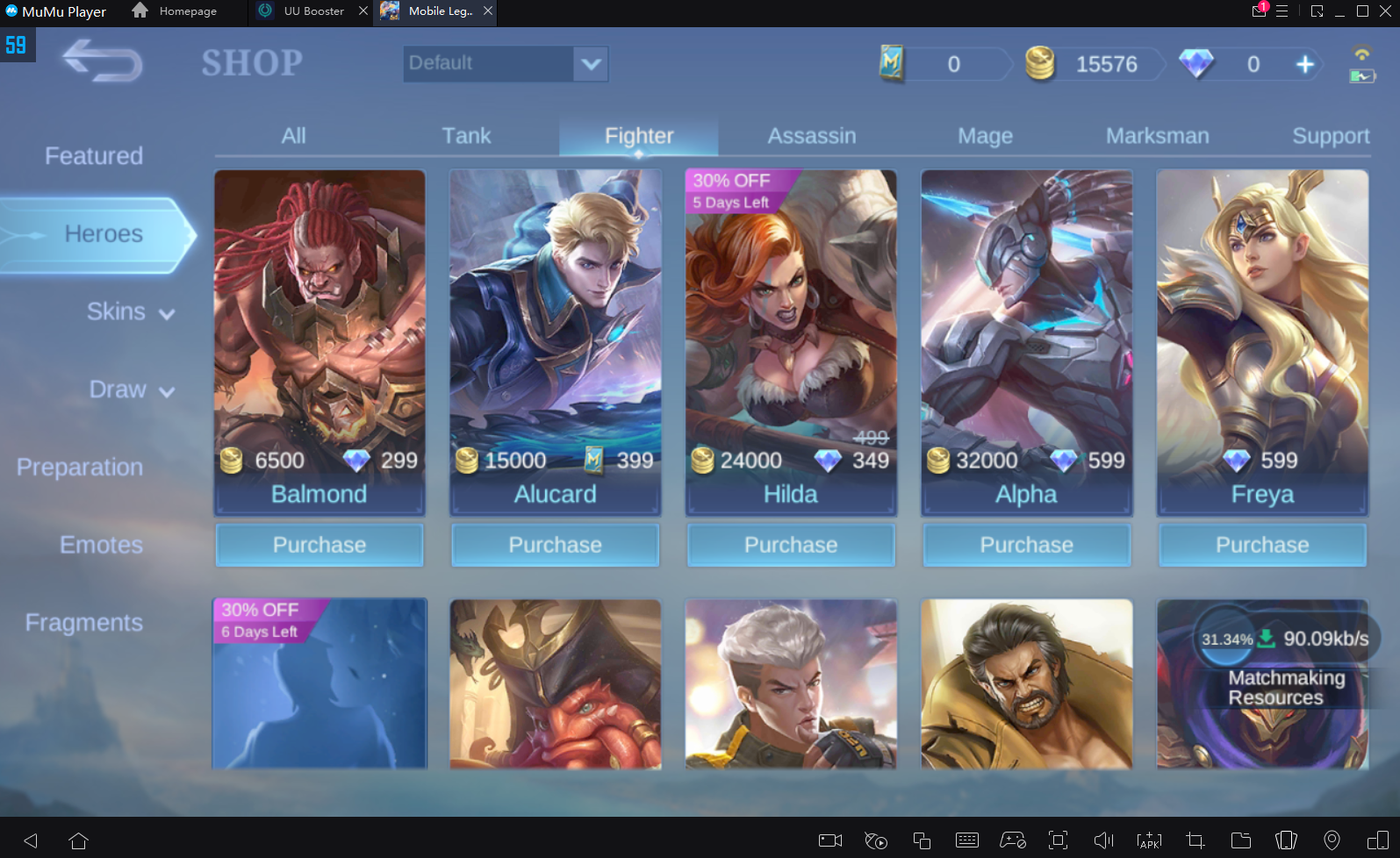 S Tier: Khaleed, Paquito, Roger, Yu Zhong
A Tier: Aulus, Chou, Guinevere, Jawhead, Sun, X.Borg, Zilong, Hayabusa, Gatotkaca
B Tier: Alpha, Alucard, Argus, Badang, Bane, Freya, Hilda, Lapu-Lapu, Martis, Thamuz, Terizla
C Tier: Barats, Balmong, Dyrroth, Julian, Kaja, Leomord, Minsitthar, Ruby, Silvanna
D Tier: Aldous
3. Mage
Mages are strong spellcasters who utilize their skills to manipulate crowds and deal magic damage in short bursts. They tend to be particularly squishy, and they are high-priority targets. The Mobile Legends tier list for Mages may be seen below.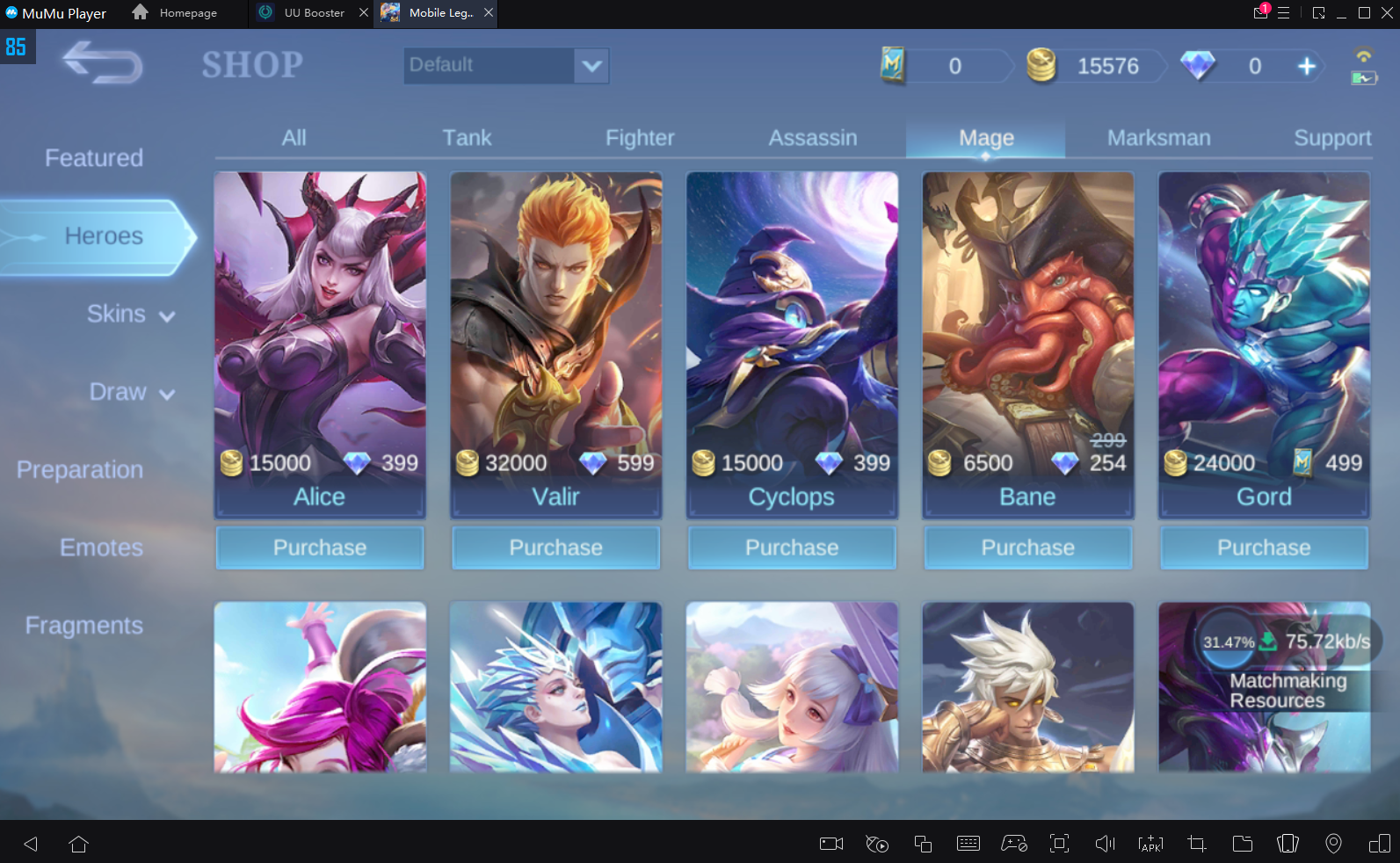 S Tier: Eudora, Harley, Kagura, Pharsa, Valentina, Lylia
A Tier: Alice, Cecilion, Chang'e, Cyclops, Esmerelda, Gord, Vale, Yve, Odette, Lunox
B Tier: Aurora, Kadita, Luo Yi, Faramis, Harith, Kimmy, Selena, Valir, Zhask, Mathilda
C Tier: Nana, Angela
D Tier: Vexana, Diggie, Estes
4. Marksman
Marksmen are the AD carries of the Mobile Legends world, meaning they are more potent in the late game. They are ranged heroes who rely solely on the power of their basic attack, as they farm up XP and Gold with the help of their Support in the early game.
Their damage potential relies on their extended reach to land high burst damage on foes from a distance behind the safety of their team. They also perform better at securing objectives like turrets due to their steady stream of severe damage, increasing the odds of winning by a significant margin.
Check out the Mobile Legends tier list for marksmen below.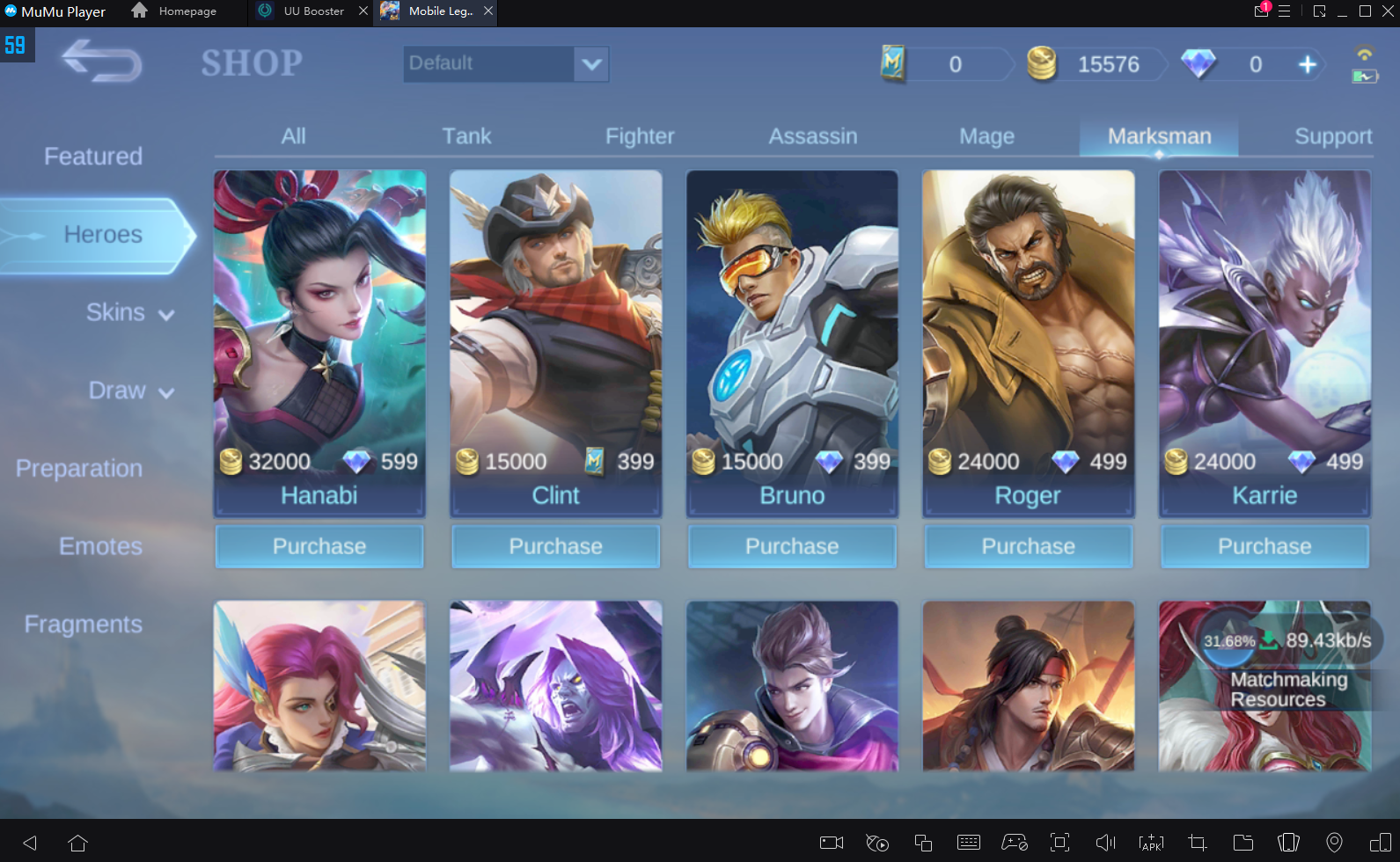 S Tier: Edith, Granger, Layla, Melissa, Roger, Natan
A Tier: Brody, Bruno, Lesley, Popol & Kupa, Yi Sun-Shin
B Tier: Beatrix, Claude, Carrie, Moskov
C Tier: Clint, Hanabi, Kimmy, Wanwan
D Tier: Irithel, Miya
5. Support
Unsurprisingly, the function of the support class is to protect your team members, whether by healing them, providing a shield over them, or blocking enemy attacks. See the Support tier list for Mobile Legends below.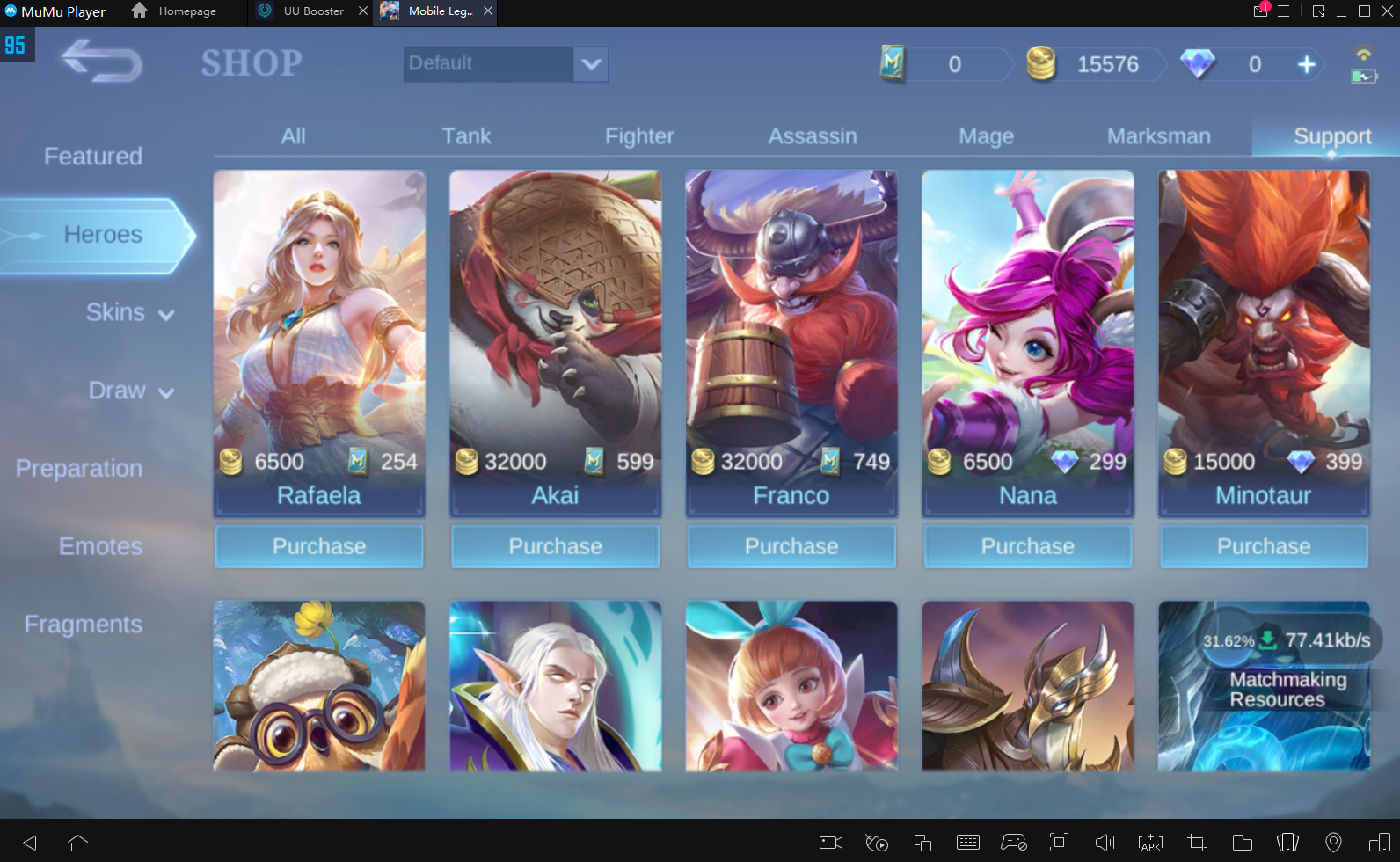 S Tier: Mathilda
A Tier: Diggie, Lolita, Minotaur
B Tier: Angela, Nana, Carmilla
C Tier: Kaja, Rafaela.
D Tier: Estes
6. Tank
Although their damage is low in compared to other Mobile Legends characters, tanks are powerful, aggressive initiators with a large health pool and a variety of talents to protect their teammates and lock down adversaries. See the Tanks tier list for Mobile Legends below.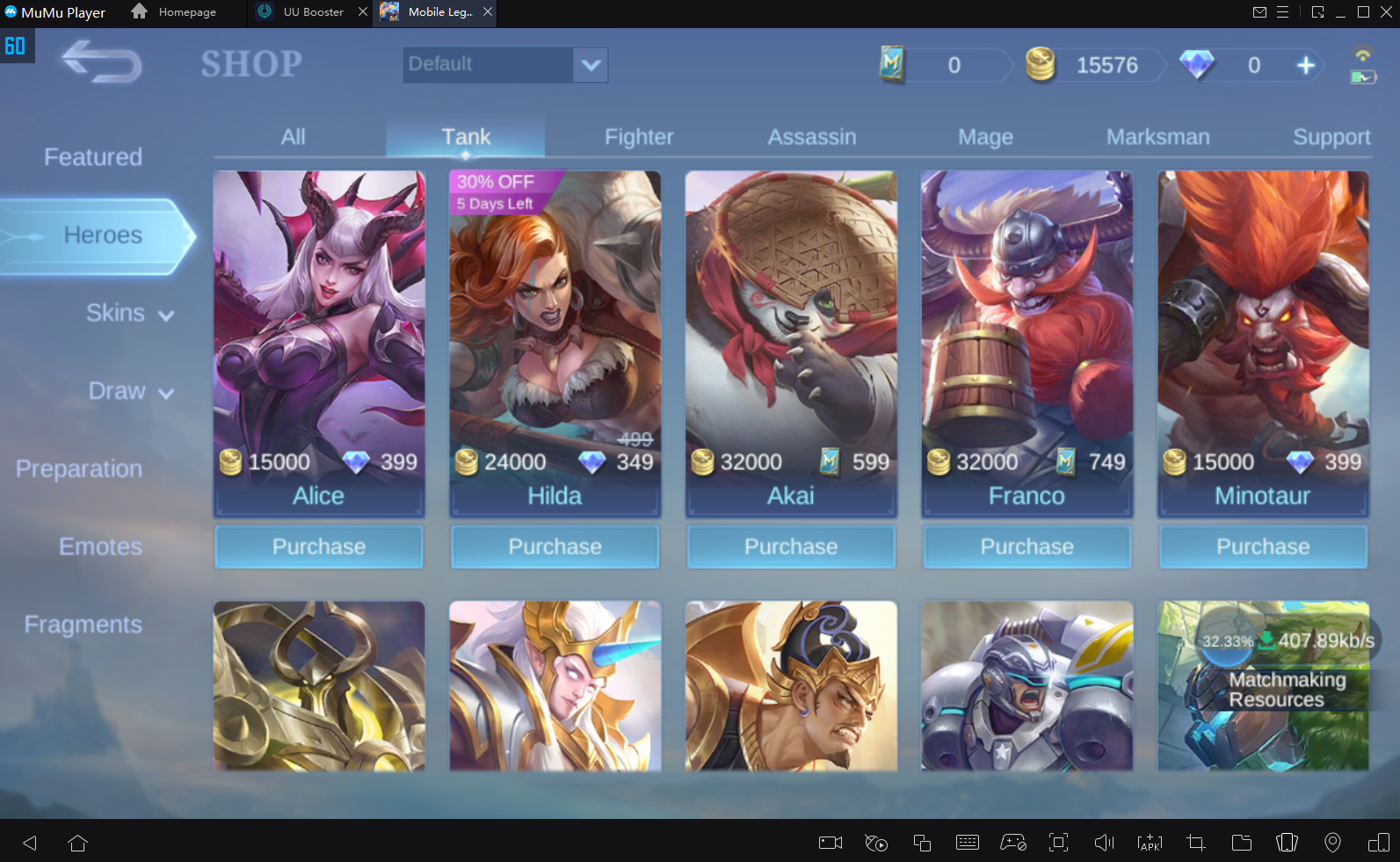 S Tier: Tigreal, Grock
A Tier: Akai, Atlas, Barats, Gloo, Uranus, Edith, Alice, Esmerelda, Fredrinn, Gatotkaca, Johnson, Lolita, Minotaur, Uranus
B Tier: Franco, Hylos, Baxia, Balmond, Hilda, Hylos, Khufra
C Tier: Barats, Ruby
D Tier: Belerick
Total Tier List
The MLBB Tier Lsit for all heros without class divison is below.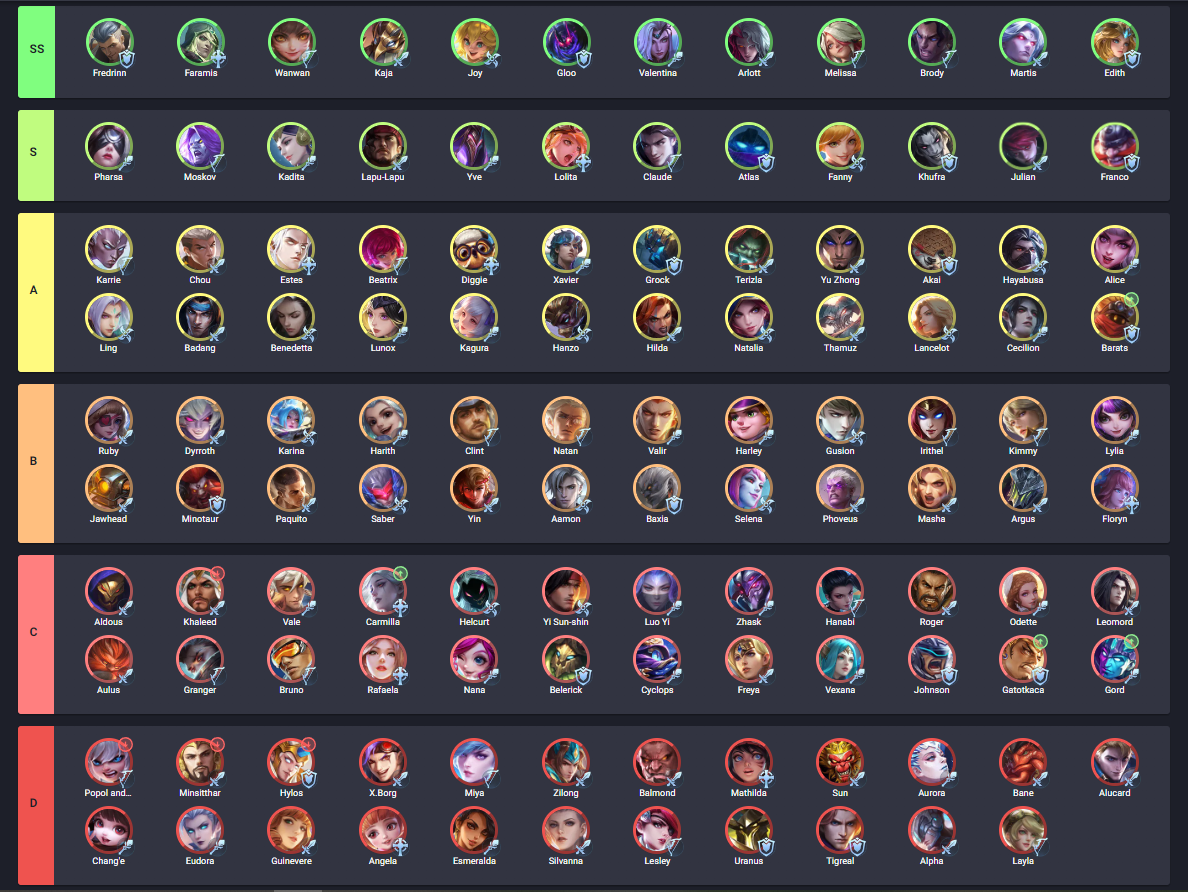 FINAL THOUGHTS
Remember that the Mobile Legends meta is changing all the time. There are no definitive rules on what mobile heroes can and cannot be played and no outright best hero in the game, so take this Mobile Legends tier list with a pinch of salt. Some "D Tier" heros can perform great within specific team compositions; it depends on your personal skill and experience!
If you want more MLBB news, you could access this article Mobile Legends: Bang Bang Guide - How to Choose the Best Hero.