"Stunt Show" is the name of the new season, and it introduces the players to a new environment. The most recent environment is the Starr Park region where Stu and his trio of brawlers conduct their stunning antics. Players will be able to encounter new brawlers from the Stunt trio, as well as season-themed skins for various existing brawlers, this season.
Two new brawlers
Janet
Janet is an acrobat and singer who uses her jetpack to perform in Stunt Park. She is the show's star, and when she sings, she uses her loud notes to inflict damage on the adversary. The shape of the cone changes depending on how long players hold the attack. Short-range damage is dealt with by quickly releasing the strike, however, a wide attack held for a long time will expand the range but make it quite narrow.
Her attacks pierce through targets and deal damage at all attack ranges. Using her super Janet activates her jetpack and flies in the air for 7 seconds, where she can deal damage to the enemies while being invincible. Janet will be a part of the Brawl Pass and like the previous seasons will be unlocked at Tier 30.
Bonnie
Bonnie is Janet's younger sister and one of the game's most dangerous brawlers, as she uses her cannon to execute death-defying acrobatics. Janet has two Meg-like forms that she can transition between with the help of her Super. The distinction between Bonnie and Meg is that Bonnie's super is only used to switch between forms, whereas Meg's super is used to deal damage in her Mecha form.
She possesses a lot of health, a long-ranged attack, and a moderate movement speed in her base form. Between attacks, she only has one ammunition in Canon form. There's a slight lag, comparable to Bea's. When she lands, she uses her super to fling herself from her Cannon, delivering damage. She gains movement speed and damage in her melee form, but her attack range and health are reduced. Bonnie's melee range allows her to provide splash damage in a small area of effect, making her ideal for dealing with several adversaries in close quarters. When she uses her super Bonnie, she reverts to her Cannon form.
New Game Mode: Bolt Drop
A new 3v3 game mode is being added to the game, for the duration of the upcoming season. The objective of the game mode is to collect bolts that will drop on killing the bots that carry them. One must beware though, as these bots have a lot of hitpoints and will attack the player who attacked them last. The game mode lasts for 2 minutes and the team that collects 8 bolts and first wins the match.
Brawl Stars May 2022 Brawl Talk: New skins, Pins, and Sprays
Ten new skins will be introduced with the update. Five skins are based on the new environment, three skins are based on the theme of enemies of the Starr Force.
Upcoming skins
Biker Carl (Brawl Pass exclusive – Tier 1)

Valkyrie Janet (Brawl Pass exclusive – Tier 70)

Crash Test Darryl (Power League Skin)

Monster Truck Meg

Pyro Spike

Daruma Mr.P

Tempest Tara

Overlord Byron

Galaxy Storm Lola

Empress Bonnie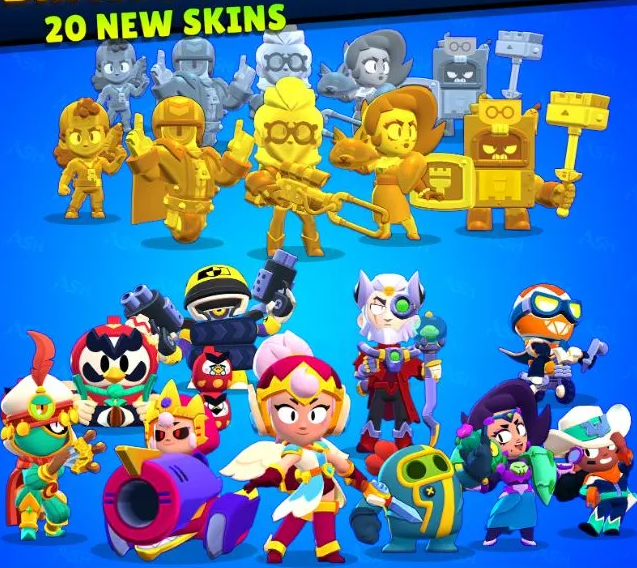 Overlord Byron, Galaxy Storm Lola, and Empress Bonnie will have a special challenge each released in-game which will reward players with exclusive pins and profile pictures. Supercell will also be releasing a set of True Silver and True Gold skins for Ash, Meg, Lola, Belle, and Stu. Moreover other than the new skins, more animated pins are also going to be added.

A new cosmetic is being added to the game, Sprays. Similar to pins these can be used in matches and these place a temporary pattern on the ground. Players are given three free to start with and more will be available on the trophy road.
>>>Now play Cookie Run: Kingdom on PC with MuMu Player<<<