The Minecraft Championship (MCC 24), a battle of the community's most popular and skilled Minecraft players, is set to take place today! Ten teams of four will compete in a variety of challenging game modes, and the event is a must-see for all Minecraft fans. Those interested in watching the event can do so today, Saturday, August 20th, 2022 at 12 PM PT/3 PM ET/8 PM BST on the official Noxcrew Twitch channel. It will last approximately two to two and a half hours.
Popular community creators are set to compete at the Minecraft Championship (MCC 24)
The following teams will compete in game modes such as Battle Box, Sands of Time, Rocket Spleef Rush, Grid Runners, Hole in the Wall, and others, totaling 8 games and an epic finale called Dodgebolt:
Red Rabbits
Purpled
CaptainPuffy
WilburSoot
Ranboo
Orange Ocelots
HBomb94
Tubbo
TommyInnit
Jack Manifold
Yellow Yaks
Dream
BadBoyHalo
Skeppy
GeorgeNotFound
Lime LLamas
Krtzyy
Shubble
Smajor
Seapeekay
Green Geckos
5up
TapL
TheOrionSound
GeminiTay
Cyan Coyotes
Hannahxxrose
jojosolos
Aimsey
PearlescentMoon
Aqua Axolotls
Fruitberries
Smallishbeans
Cubfan
GoodTimesWithScar
Blue Bats
Sapnap
Sylvee
Foolish Gamers
Gee Nelly
Purple Pandas
Illumina
Ryguyrocky
Michaelmcchill
Krinios
Pink Parrots
Ph1LzA
InTheLittleWood
CaptainSparklez
AntVenom
Minecraft fans have probably noticed big names like Dream, TommyInnit, Skeppy, and more on the list of players participating.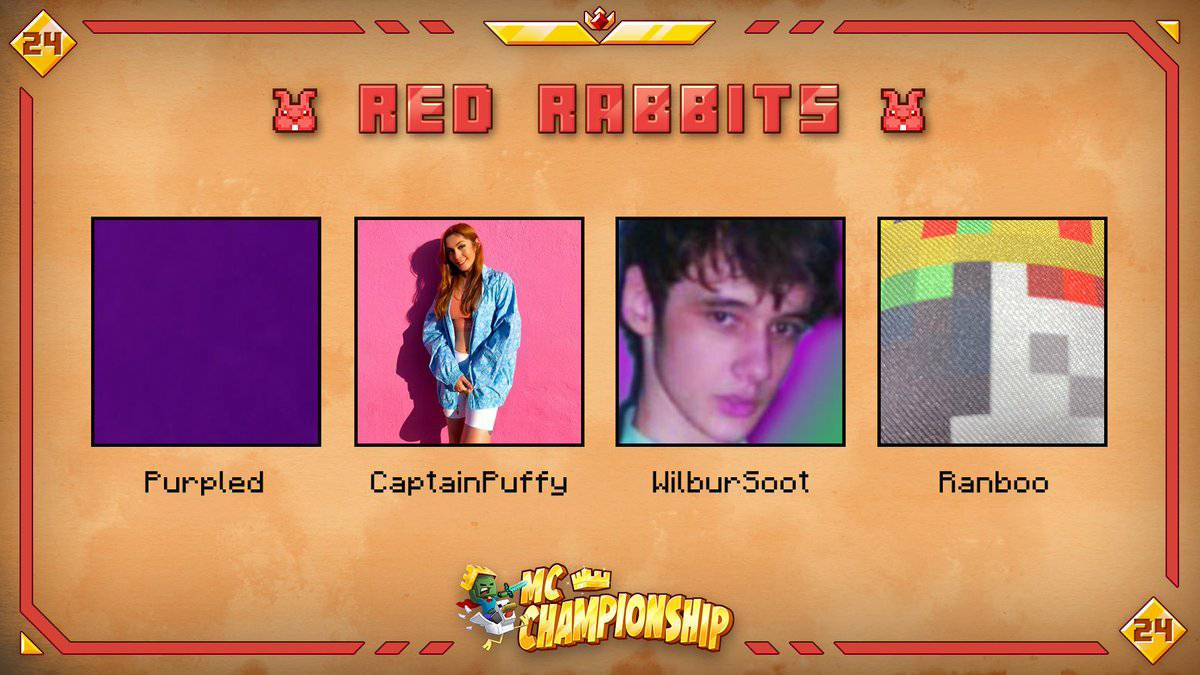 In case you didn't know, MCC is a (almost) monthly free-to-enter tournament hosted entirely for fun by Noxcrew (official Minecraft partners). Viewers can learn more about how the game works by visiting the event's official website.